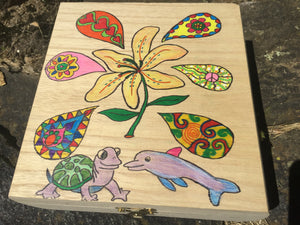 BOX BUDDY
These art boxes began as holiday presents for my 7 nephews and nieces (2016). They grew into wonderful gifts for friends having weddings and children. 
Let's get creative!  You tell me the interests of the recipient and I'll design something special. Cheers!
ART BOXES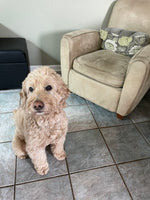 DOGGIE DUTY
Doggie Duty is a traveling dog sitting service where your four legged friends stay comfortably in their home while you enjoy your time away guilt-free
Dog Blog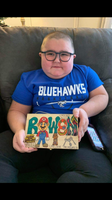 NOMINATED SMILES
Nominated Smiles is Box Buddy's Nonprofit, providing smiles to strangers. Local businesses nominate an amazing person in their community to be the recipient of a special surprise!
K2 Nominated Smiles
Switzerland

Mount Matterhorn
South Africa

Durban Shark Cage
New Zealand

Waterfall kayaker
Switzerland
Mount Matterhorn
South Africa
Durban Shark Cage
New Zealand
Waterfall kayaker
Virginia

Appalachian Trail
Chile

Hornopiren, Patagonia
Laos

Bamboo Blue, Mekong River
Virginia
Appalachian Trail
Chile
Hornopiren, Patagonia
Laos
Bamboo Blue, Mekong River
New Zealand

Doubtful Sound kayaking
New Zealand

Routeburn Track
New Zealand
Doubtful Sound kayaking
New Zealand
Routeburn Track
Testimonials
All 3 of my children have a Kustom Kyle box, and our family has a wood burn too.  Great dog service as well!  Kustom Kyle will help you create any fresh idea.  If you dream it up, they'll for sure make it happen.

Kelly (DF, IL)
I met Kyle on the beach in San Diego. I told him about my two year old son, in which he automatically designed a box up for my boy. I am so happy to go collect rocks with my son to keep in his box.

Ben (SD, CA)
I met Kyle at a music festival in Florida. He had customized boxes for the festival, but also made one special for my husband and I to remember the weekend. We love it!

Johanna (Fla)
My husband worked with Kyle in Asheville. We've been following his journeys for the past six years, falling in love with his art and writing. He made a box for our son on his birthday, which truly captured all of Reece's favorite things without even asking us. He surprised us all, the way he does best!

Carla (Ash, NC)
Kustom Kyle is like family to Cardwell Caning. Kyle made a box for us years ago where we challenged him to design things out of his comfort zone. He recently made one for our daughter as well. We're also honored to participate in the K2 Nominated Smiles program. Keep it up Kyle!

Jill (Chatt, TN)
Reese loves her Kustom Kyle "time capsule!"  Every year on her birthday, we write letters and put special gifts in there for her to cherish forever.

Dana (Chi, IL)
Both of my son's love their Kustom Kyle boxes.  They keep their favorite artifacts inside, but it is great for me as I now write letters to them every year which I keep inside the box as well. 
Thanks Kustom Kyle!

Simone (HP, IL)
Thank you Kustom Kyle for our boxes. We love the one given for our wedding and our son has his own box to store things as he grows up.

Josh (DF, IL)
I asked KustomKyle to make a box for me to keep my ticket stubs and cannabis items. He disguised my favorite Phish songs on the box he designed for me. I'm a big fan. Thank you Kyle.

Jude (Chi, IL)